About Swiss Canonica
SwissCanonica, forms part of the internationally renowned SwissCanonica Group, which has been an established food and beverage operation in Geneva Airport since 1948. The addition of the Dubai branch was launched in 2015.
"At SWISSCANONICA, we believe that healthy and nutritious food is vital for children while growing up, hence food quality is our key concern, and therefore we place so much emphasis on our ingredients. Our menus are developed in consultation with a nutritional specialist and a team of highly experienced chefs so that we can ensure balanced, healthy, and delicious meals daily. We work closely with some of the best suppliers in the UAE, which enables us to offer high quality, local and seasonal ingredients in all our meals."
The SwissCanonica Head Chef and his team provide a European-inspired menu with a mix of dishes from around the world. Every day, the team prepares two different menus, each with a starter, main course, and healthy dessert. One menu is based around meat, fish, or poultry while the other one provides vegetarian options to help teach children (and adults) the many ways of adding more vegetables to their diet. At the end of each week, a country specific menu is offered.
SwissCanonica has a food production laboratory in Geneva and Zurich. The Central Kitchen in Dubai handles all operations within the UAE. In addition, SwissCanonica owns and operates its own chocolate laboratory and Swiss chocolate label 'Canonica', which is known for its artisan hand-crafted chocolate. Canonica chocolate can be found in Emirates' First and Business Class, as well as at the famous Nobu Restaurant, The Palm.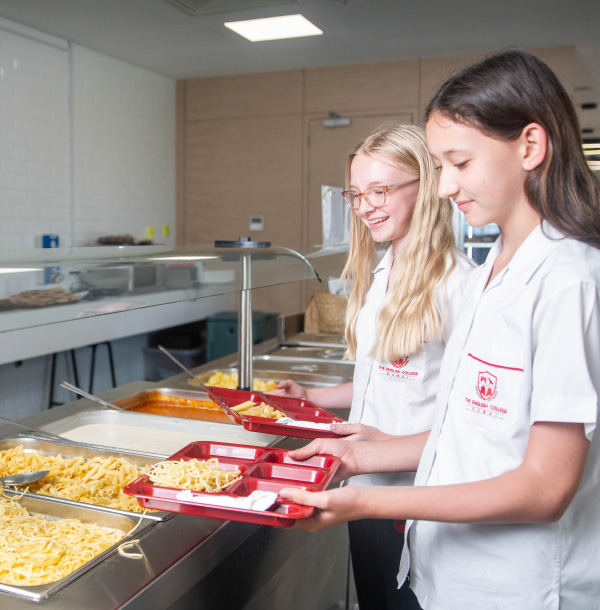 The SwissCanonica
Menu  November/December 
Meal Plan Options
Option 1 – Termly Plans  
| | |
| --- | --- |
| | TERM 1 |
| Lunch Option for FS | AED1,300* |
| Lunch Option for Year 1 to 6 | AED1,408* |
| Lunch Option for Year 7 to 13 | AED1,516* |
IMPORTANT NOTE: The lunch meals are being served from Monday to Thursday only. *Inclusive of VAT & 5% discount
Option 2 – Monthly Plans
November / December
Lunch Option for FS
AED528*
Lunch Option for Year 1 to 6
AED572*
Lunch Option for Year 7 to 13
AED616*
IMPORTANT NOTE: To guarantee the availability of the Monthly Plan please ensure that orders are submitted, and the payment is made by the 25th of each month.  The lunch meals are being served from Monday to Thursday only. *Inclusive of VAT
Option 3 – Voucher Booklet
20 meal vouchers to be used during the whole calendar year. This is a great option for those children who bring both packed lunches from home, but also wish to eat with us eventually. NEWS: We are now going green! Hence no more physical vouchers will be handed over, and instead, your children will simply have to scan their card in order to redeem their daily meal.
Option 4 – Grab-n-Go Counter
You can also opt to leave a Topped-up amount for your children to purchase at the canteen Grab n' Go counter (healthy snacks, salads, sandwiches, freshly baked pastries, and drinks) or even our daily hot meals.
The first card will be free of charge, top it up with a minimum of AED50. The replacement card will be charged at AED20. View the 'Grab-n-Go' Menu.
FLASH NEWS: Now we have a Grab & Go within Primary. View the 'Grab-n-Go' Menu  or Learn More 
How To Order
To place an order for Termly Plans, Monthly Plans or Voucher Booklets, please install our mobile ordering application "Spare". Kindly scan the QR code to get the application on both, Google Play and App Store.
The school canteen is cashless
Please scan the QR code or click here to download the app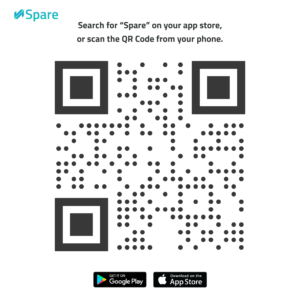 For the step-by-step guide on how to use the application, please follow the detailed description available here
---
We are happy to announce that on December 7th we will serve a Festive Themed Lunch for our children to enjoy before heading off to winter break.
There is no action needed for those already signed up for monthly or term bundles.
However, if you are not signed up and wish to buy the Daily meal, please do so within the Online Store of our Spare App.
Hurry! You have time to sign up for our delicious yet healthy Turkey Lunch until November 27th.
MENU OPTIONS:
Regular:
STARTER: Mixed Roast Root Vegetables
MAIN: Roast Turkey with Cranberry Sauce
SIDE: Roast Potato
DESSERT: Mince Pie
Vegetarian:
STARTER: Mixed Roast Root Vegetables
MAIN: Vegetable Loaf
SIDE: Roast Potato
DESSERT: Mince Pie
Contact Us
If you have any questions or feedback regarding SwissCanonica catering at The English College, please email canteen-EC@swisscanonica.ae