Secondary School
Welcome by the Head of Secondary
I would like to wish you a very warm welcome to The English College; the Best Value, High Quality, British Education in Dubai rated Outstanding by BSO (October 2022) and Very Good by DSIB (February 2023). We are driven by our core values of aspiration, gratitude, integrity, resilience, and respect, which are at the heart of everything we do. Our outstanding pastoral care ensures that our students are happy, safe, and supported. Our dedicated pastoral team, heads of year and full-time counsellor ensure that students have the support they need to flourish. Learning is challenging, fun, and engaging; our teachers have extensive dedicated professional development time where they spend time developing their pedagogical practice, collaborate with colleagues and further develop their craft. Consequently, our outcomes are excellent; students' attainment competes with the very best schools across the globe. Even more importantly, our students far surpass their potential, compared to their CAT4 target grades, leading to Outstanding value-added data.
Students at EC are successful and achieve the very best they can; they achieve individual success, and that success looks different for every single unique student. This ensures that our students have the grades that they need to further their education at top institutions across the world, supported by our dedicated Higher Education advisor. In addition, we are incredibly lucky to have a new building with state-of-the-art science labs, art studios, drama studios, a fitness suite and a dedicated health clinic, to name but a few. Children must feel safe and supported at school – I strongly urge you to come and have a look around our school and I am sure you will feel the warmth, support, and excitement that I feel every single day.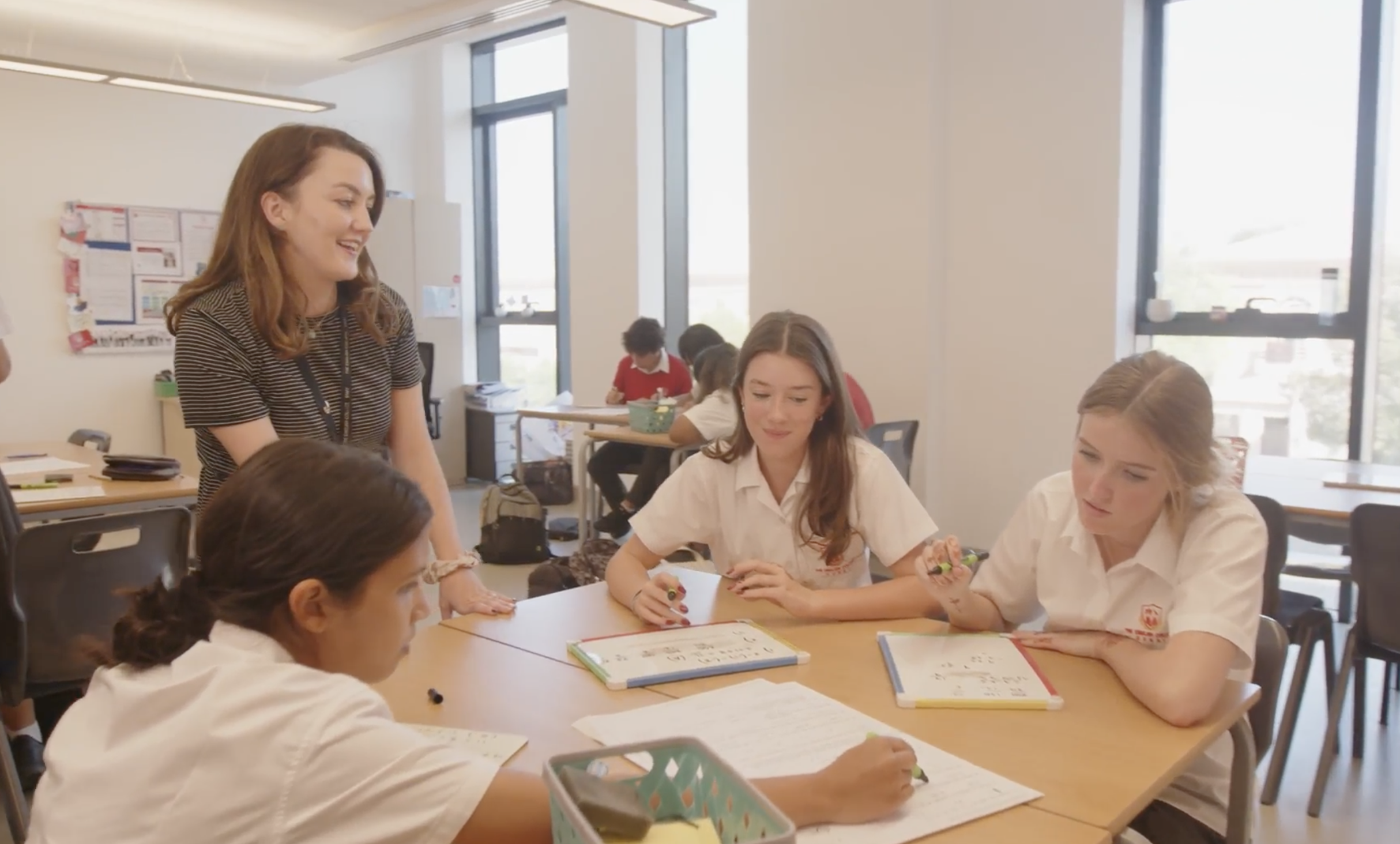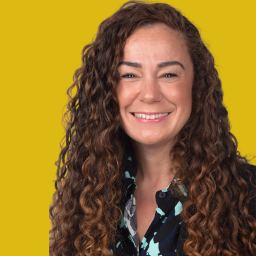 Emily Hopkinson
HEAD OF SECONDARY SCHOOL
Our School Vision At The English College, we encourage students to always try their best and aspire to excellence. We strive to develop lifelong learners who flourish in all they do and embrace, with passion and confidence, their responsibility to support others and make a difference both locally and globally.
Pastoral Care & PSHCE Programme in our Secondary School (EH)
We pride ourselves in delivering the very best holistic care for all our students. We have truly earned our KHDA rating of "Outstanding" for pastoral care and safeguarding; we value each and every one of our students and our aim is to ensure they are successful, whatever that looks like to them. We nurture budding medics, dentists, lawyers, musicians, sportspeople, actors, chefs, economists, and psychologists, to name a few.
Holistic care is important to us; it's essential that our secondary school students develop the skills they need for success in their future. To support this, we have a full-time counsellor in school who works with students to overcome whatever barriers they face in life. In addition, we have developed an in-house tutorial programme, based on Martin Seligman's PERMA model for Positive Psychology, that allows students to develop the necessary skills for 21st century life such as critical thinking, resilience and problem solving.
Furthermore, our tutorial programme allows our secondary students to explore and debate issues to broaden their skills and to prepare them for life beyond EC.
Please visit our Inspections and Accreditation page for access to all of our KHDA and BSO reports.
Teaching and Learning at Our Secondary School
At The English College, Teaching and Learning is at the heart of everything that we do and as professionals we are passionate about what we do. This begins with recruitment, where we recruit high-quality, experienced teachers to ensure the best possible provision for our students. For every position we advertise for, we consistently see over 100 applicants and have a robust recruitment process to ensure we hire the very best professional. Our teachers are all experienced and fully trained professionals, with the vast majority being UK trained, and offer a classroom environment that is fun, supportive and challenging. Students at The English College can expect a very approachable teacher, who will care for them as a student and a person, creating a productive and purposeful learning experience. However, we have high expectations for all of our students; we are relentless in our pursuit of excellence and drive our students to achieve the very best in everything that they do. A proud element of our school is how, through excellent Teaching and Learning, we 'add value' to our students' progress, leading to our students exceeding their target grades.
At The English College, we believe that all teachers can reflect, grow and improve and as such, we must all engage in continuous development in order to meet the needs of our students. Our Teaching and Learning approach is evidence-based, rooted in research on cognitive science, to ensure that our students make progress in the classroom each day. Consequently, our professional development programme ensures that our teachers have time to reflect on their practice, collaborate with others, and learn about the most recent pedagogical practices. The professional learning library is well resourced with teachers actively engaging in their own, tailored professional development.
The Secondary School Curriculum
As one of the leading British schools in Dubai, our curriculum reflects our vision; to develop students into lifelong learners who flourish in all that they do. Designed to be broad and balanced, our curriculum aligns with UK guidelines, meeting the needs of the UK National Curriculum, but also taking into account the multicultural essence of Dubai's diverse and cosmopolitan city.
We pride ourselves on the fact we are a responsibly inclusive school, catering for the needs of all students. Whilst academic excellence is at the heart, we believe the true value of our curriculum extends beyond, ensuring students are able to meet the challenges that they will face in a rapidly globalising and competitive world.
We are committed to providing every learner with a rich, varied, challenging, and inspiring curriculum, which enables them to reach their highest potential. By embracing our curriculum, our students become resilient, actively seeking challenges, with passion and confidence. They show integrity and respect and drive change, making a difference both locally and globally.
We prioritise laying secure foundations for progression into Higher Education. It is our intention that all students achieve a place at a top university in the UK or leading universities worldwide. You will find highly qualified and motivated staff who are experts in their respective subjects. Each department boasts immaculate facilities and abundant resources, providing an optimal learning environment.
Our curriculum supports our diverse student body, providing them with an enriching educational journey. Through cultural exchanges, events, and a curriculum that incorporates global perspectives, we nurture open-mindedness, intercultural understanding, and respect for all. At The English College, we believe that embracing diversity is not only a strength, but essential for 21st Century learners. We are dedicated to nurturing well-rounded individuals who are academically accomplished, socially confident, and equipped to thrive in their future endeavours.
Key Stage 3: (years 7, 8 and 9)
At The English College, we prioritise successfully preparing our students for the challenges that lie ahead. Our Key Stage 3 curriculum is meticulously backwards planned, ensuring that every student receives a comprehensive education that equips them with the necessary knowledge skills and understanding.
Each subject has a Key Stage 3 curriculum that is carefully crafted with clearly identifiable key concepts and skills that are crucial for success. We believe that understanding what success looks like in each subject is vital for students, which is why we provide them with a clear overview of what they are expected to know and what they need to be able to do to achieve a higher level of attainment.
Transparency is a cornerstone of our approach. On the very first day, we share our curriculum with parents, enabling them to have a full understanding of what their children will be learning, when and how they will be assessed, and what additional external resources can be utilised to further develop their child's knowledge and skills beyond the classroom.
Our robust curriculum is designed with the future in mind. We aim to prepare our students not only for the demands of their GCSEs and A Levels but also for life beyond the academic environment. We believe that a well-rounded education encompasses not only academic excellence but also the development of essential life skills, critical thinking abilities, and a love for learning that will serve our students well in their future endeavours.
During Key Stage 3, Students will study the following subjects:
Arabic, Art, Computing, Drama, English, French, Geography, History, Islamic Studies (Muslim students' only), Maths, Moral Education, Music, Physical Education, Spanish and UAE social Science.
Key Stage 4: GCSE qualifications (years 10 and 11)
Much of your child's academic career to date has been leading to their final qualifications – GCSEs (General Certificate of Education), studied across years 10 and 11. At The English College we ensure that our students embrace their passions and aspirations by creating a personalised learning pathway that maximises their ability to achieve both academically and holistically. Every child will qualify with their compulsory subjects of science, mathematics and English enabling them to progress into any A level course and pursue any degree or career path. In addition to this core curriculum, your child is able to select optional subjects of their choosing.
The English College approach is purposefully designed to allow students the freedom to engage in a broad range of disciplines across the sciences, arts, languages, humanities, social sciences and technologies or, if they so choose, pursue a focused pathway.
Our GCSE transition process means that each child is well-informed in order to make the choices that are right for them in this next phase of learning. For those interested in understanding more about our Year 10 options, our GCSE 2024-2026 Options booklet provides in-depth breakdowns of each subject and the topics covered.
Our educational ethos is about empowering students to fulfil their academic potential; we get outstanding results by working with parents and students to create a personalised curriculum.
Key Stage 5: A level/BTEC qualifications (year 12 and 13)
Our Key Stage 5 curriculum is built with our students in mind; it caters to the needs of our individual students, their aspirations and strengths. We offer pathways that create a personalised, meaningful, and challenging timetable for each student. There are three possible pathways of learning: A level only, BTEC only, or a blended A level and BTEC pathway. Students usually study three subjects, with a minority choosing four subjects, as their core curriculum. Beyond this core curriculum, students study an enriching and exciting programme, encompassing both core elements and elective options so that they can maintain their wellbeing, and develop the necessary skills for future success. Our subject options are varied and wide ranging, from Chemistry to Further Maths, Drama and Law – there are options to inspire and challenge everyone. The full list of subjects offered can be found in our Sixth Form options booklet 2024/26. Each pathway has entrance requirements based on GCSE grades which are clearly communicated in the Sixth Form option booklet. The entrance requirements help us ensure that students are selecting appropriate options, enabling them to be successful and gain the qualifications that they need to secure their future aspirations.
In order to ensure that students select the most appropriate pathways for them, we provide our Year 11 students with taster sessions in all subjects, a Pastoral program that educates the students in career pathways and higher education destinations, one-to-one guidance meetings with our HE/Careers Advisor, and an information evening with our specialist staff. Students will select their options early in Term 2 and these options will be confirmed on GCSE results day.