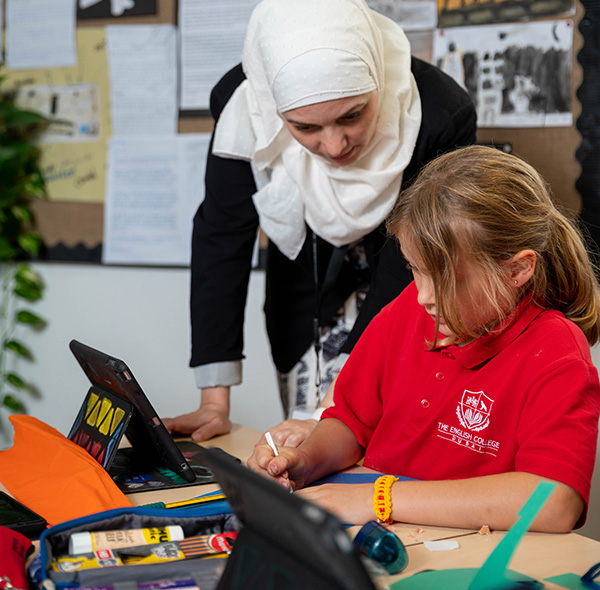 Inclusion
Inclusion is at the heart of everything we do at EC; our aim is to help your child overcome any barriers that they face in order for them to flourish academically, socially and emotionally. Whether your child has been diagnosed with a learning difficulty or faces another challenge, we provide various options to ensure that they are supported. Our strong belief is that all students, regardless of their barriers to learning, should be given the opportunity to reach their full potential and achieve the best possible.

The Team
The Head of Inclusion is a whole school role to ensure that we have a whole school approach to inclusion. The team consists of the Head of Inclusion, The Inclusion Support Team and a team of Learning Support Assistants (LSAs). The majority of these LSAs are based in the Primary school as we believe in early intervention, however we also have specialist LSAs in the Secondary School to support where needed.
As a responsibly inclusive school, we enrol students in line with our Admissions Policy. Parents need to declare any Special Educational Needs and Disabilities (SEND) on our online Admissions Form, which will be handled confidentially and sensitively. We will also ask parents to submit any reports that will help us make an informed decision so that we can support your child in the right way. We will then schedule an informal meeting with you and your child that will support you in your transition to The English College. If your child has been identified as having a learning need, then our Inclusion Team will ensure that appropriate provision and support are provided and make contact with their previous/ current school to ensure that we can plan the support accurately. Our aim is to include, ensuring that we can responsibly meet the needs of your child.
Our Inclusion Team
We are the key contact for parents and their children. The Head of Inclusion will hold regular review meetings for students scheduled following interventions. This happens typically at the end of the term to ensure smooth planning for the term ahead.
The Inclusion Support team will meet monthly to support the school and its students in meeting the requirements of inclusive practice.
Constant and consistent communication with parents is key Our team is empowered to support your children through ongoing professional development and the sharing of strategies to meet needs.
We provide a safe space for your child where they can speak about concerns or difficulties they are experiencing in class. Our approach is consistent and caring.
Foundation Stage 1 and 2
We work closely with the class teachers and conduct regular observations of the students to ensure that children achieve their developmental milestones. Where there are concerns, we invite parents to come and discuss these and put appropriate measures in place. In case that a student has to be referred for extra therapy, we do so by connecting with external professionals who are specialized in delivering therapy such as Applied Behavioral Analysis (ABA), Occupational Therapy (OT) or speech therapy.
Primary School, Year 1 to 6
We work closely with the class teachers and the learning support assistants to provide support for all needs. This ranges from in class support to timed interventions to withdrawal support. We also support students who may have additional needs but exhibit a particular ability or a talent. We support their enhancement through extra curricular activities and opportunities provided in class through Quality first teaching. We also observe students and support them by providing specific strategies for class teachers and the LSAs to use in their practice.
Secondary School, Year 7 to 13
In our Secondary school, we work closely with form tutors, Head of Years and subject teachers. We observe, provide strategies, support with tracking and monitoring student progress and update parents and staff regularly. We also provide in class support where necessary so that all of our students flourish.
All of our students from Foundation Stage to Year 13 who exhibit special talents or perform above and beyond in particular areas are catered for through our More able and talented (MAT) programme. These students are identified through their CAT scores, in combination with referrals from their teachers. The students may display a talent or excel in a specific area which goes beyond the realms of being more able. To support these students we provide quality first teaching, enrichment opportunities and additional activities designed to stretch and challenge students beyond their curricula. This provision is overseen and regularly evaluated by the More Able and Talented Coordinator and the Head of Inclusion.