All There Is To Know About The British Curriculum

Year on year, parents seeking the best education for their child look towards schools providing the British Curriculum. This highly-regarded curriculum is not just available within the UK, with the international education system now more than ever offering overseas teaching focusing on an extensive syllabus of set subjects and standards – providing young learners with the necessary knowledge to progress onto further universities and education around the world. The Middle East is no exception, with the British Curriculum in Dubai slowly becoming a favourited system amongst families emigrating from England and America for example, as well as those moving to the city from neighbouring locations.
The British Curriculum is recognised by more than 160 countries and thought to be the most popular teaching style around the globe. However, the figure for international schools still currently stands at a lesser 30% in comparison to the system's homeland – meaning a Dubai school's British Curriculum acts like gold dust, and a long sought-after education for those seeking life in the city. Before committing, it is necessary for parents to know all the vital information regarding this prestigious curriculum, ensuring that they make the correct decision for both them and their offspring.
What Is The British Curriculum?
Also known as the English National Curriculum, the British Curriculum is a standard set of subjects used by both primary schools and secondary schools. From around the ages of 5 all the way through to 16, children are subject to compulsory learning that is divided into different stages – Key Stage 1, Key Stage 2, Key Stage 3, and Key Stage 4. Each of these represent a select range of school years and are put in place to administrate progression as well as exam difficulties. For example, children in years 3 to 6 will fall within the Key Stage 2 bracket, progressing onto Key Stage 3 when they begin their secondary education. The high standard of lessons that are put in place encourage critical and creative thinking, problem solving, and leadership skills – developing confidence in reading, writing and speaking.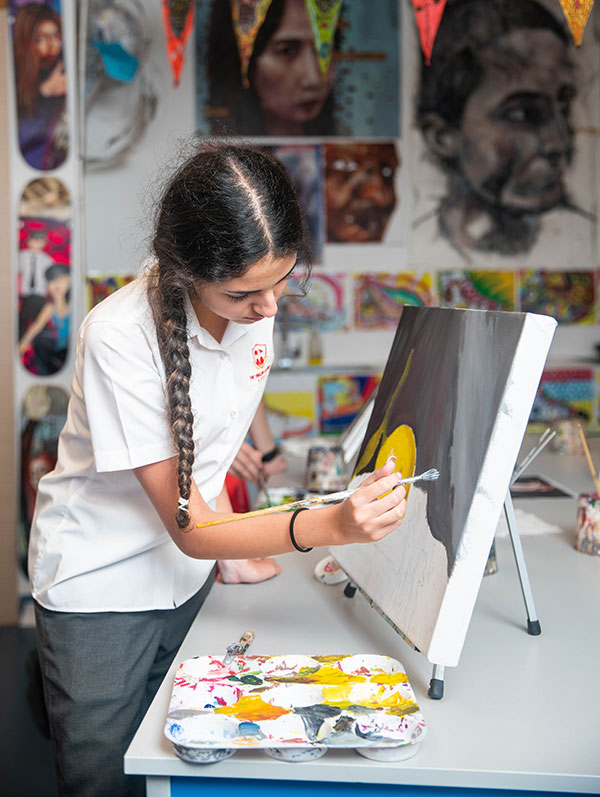 All this preparation leads students to their two main exam periods – GCSEs (General Certificate of Education) and A Levels (Advanced Level Qualification). A GCSE programme occurs within the last two years of a child's secondary education, and here students' study between 9 and 12 subjects, continuing with the main compulsory subjects as well as select ones chosen by the student according to their own preferences. At the end of learning, students take their exams to achieve their certifications leading to College. A Level's however, provide an individual with more freedom and tailors them for the world of higher education. Students specialise in 3 or 4 subjects usually related to their desired career pathway, subsequently leading to exams at the end of this educational period – achieving the correct grades for university.
Which Subjects Are Included?
The British Curriculum offers an extensive programme, and this is another drawing factor to add to its long list of amenities. Throughout a child's education, they are presented with lessons based on twelve subjects, and these can be divided into two categories: 'core' and 'other foundation' subjects. Dependent on school years, and of course the latter parts where a student can tailor their own education, a school will present a syllabus with these following subjects:
Core Subjects
English
Mathematics
Science
Foundation Subjects
Art & Design
Citizenship
Computing
Design & Technology
Languages
Geography
History
Music
Is The British Curriculum Right For Your Child?
To conclude, there are so many benefits surrounding the British Curriculum. Not only is it a globally recognised system with defined progression stages painting a clear overview of a child's development, but it also encourages growth outside of the classroom, enabling both the understanding of classroom matters as well as real-world situations. All in all, the complete programme that a British Curriculum provides is unparallel, teaching the vital subjects and life-lessons for a pupil to take with them as they progress into their adulthood and face the world around them. If you are seeking British Curriculum in Dubai, then please do get in contact with us or fill out our online application to enrol your child today. At The English College Dubai we are here to make that school transition for you and your child as easy as possible.